Attivo Networks® Wins 2018 CRN® Tech Innovator Award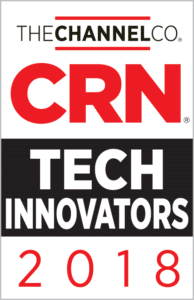 Company's ThreatDefend™ Platform Takes Top Honors in the 2018 Cloud Security Category
Fremont, Calif., November 14, 2018 – Attivo Networks, the award-winning leader in deception technology for cybersecurity defense, announced today that CRN,® a brand of The Channel Company, has recognized Attivo Networks with the 2018 CRN Tech Innovator Award for Cloud Security.
The CRN annual awards honor standout hardware, software, and services that are moving the IT industry forward. In compiling the 2018 Tech Innovator Award list, CRN editors evaluated 300 products across 34 technology categories using several criteria, including technological advancements, uniqueness of features, and potential to help solution providers solve end users' IT challenges. The Attivo Networks ThreatDefend™ Detection and Response platform took top honors in the Cloud Security category.
The Attivo Networks® ThreatDefend™ Platform efficiently and accurately addresses early in-network threat detection across all cloud and data center environments. The company's latest enhancements expand threat deception decoys and lures for containers, serverless, and cloud shared security models. Customers gain accurate in-network detection of attacker lateral movement and credential theft in the cloud. Threat deception cloud support is available for AWS, Google, Azure, Oracle environments and includes support for decoy containers, deception credentials in production Lambda functions, decoy IAM Access Keys/Tokens, SSH keys, S3 buckets, DNS records, deception Lambda functions, and CloudWatch monitoring.
"It is an honor to be recognized by CRN as the top Cloud Security solution," said Tushar Kothari, CEO of Attivo Networks. "Cloud security has unique needs and challenges associated with evolving architectures and shared security models. Attivo Networks has seen substantial growth in customer cloud deception deployments based on the ThreatDefend solution's ability to meet these unique needs and to scalably and reliably detect in-network threats without draining resources, causing alert fatigue, or disrupting cloud environment operations."
"Each year, the CRN Tech Innovator Awards recognize technology vendor offerings that are reshaping the IT channel landscape by increasing worker productivity, reducing cost, and minimizing complexity for solution providers, IT departments, and end users," said Bob Skelley, CEO of The Channel Company. "The winners in this year's awards bring breakthrough ideas to the table for solution providers and their customers, in areas ranging from cloud to security to business intelligence to IoT. We congratulate all the winners and look forward to their future endeavors."
The Tech Innovator Awards will be featured in the December issue of CRN and can be viewed online at crn.com/techinnovators.
About The Channel Company
The Channel Company enables breakthrough IT channel performance with our dominant media, engaging events, expert consulting and education and innovative marketing services and platforms. As the channel catalyst, we connect and empower technology suppliers, solution providers and end-users.Backed by more than 30 years of unequalled channel experience, we draw from our deep knowledge to envision innovative new solutions for ever-evolving challenges in the technology marketplace. www.thechannelco.com
About Attivo Networks
Attivo Networks®, the leader in deception technology, provides an active defense for early detection, forensics, and automated incident response to in-network attacks. The Attivo ThreatDefend™ Deception Platform provides a comprehensive and customer proven platform for proactive security and accurate threat detection within user networks, data centers, clouds, and a wide-variety of specialized attack surfaces. The portfolio includes expansive network, endpoint, application, and data deceptions designed to efficiently misdirect and reveal attacks from all threat vectors. Advanced machine-learning makes preparation, deployment, and operations fast and simple to operate for organizations of all sizes. Comprehensive attack analysis and forensics provide actionable alerts, and native integrations that automate the blocking, quarantine, and threat hunting of attacks for accelerated incident response. The company has won over 50 awards for its technology innovation and leadership. For more information, visit attivonetworks.sentinelone.com.
Free Active Directory Assessment
Get Visibility Into Privilege And Service Account Exposure
For a limited time, Attivo Networks is providing free Active Directory Security Assessments to demonstrate how ADAssessor provides unprecedented and continuous visibility to AD vulnerabilities.
Try Our Endpoint Detection Net (EDN) for Free
Free use offer of our Award-winning security solution to prevent attackers from lateral movement, credential theft, and privilege escalation, fast and easy.
ADSecure 90-Day Free Trial
GET PROTECTION AGAINST UNAUTHORIZED ACCESS TO ACTIVE DIRECTORY
Hide and deny access to AD objects
Get alerted on unauthorized queries
Attack details easily viewable in dashboard
Your data remains on-premise
Ready to find out what's lurking in your network?