Attivo Networks Wins Big at Interop Japan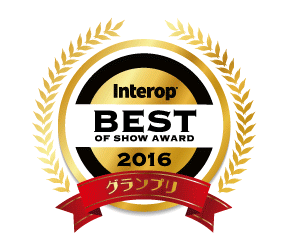 By Carolyn Crandall, CMO
2015 was a banner year of growth and wins for Attivo Networks. We closed the year with significant momentum and customer growth.
Six months into the new year, 2016 is on track to be another landmark year for Attivo. Recently, we had the pleasure of attending Interop Japan with our partner Macnica Networks where we were selected as the 2016 Security Best of Show award winner. Interop is well known as a leading global business technology event that brings together prominent business and technology leaders from around the world to learn about key technologies and latest industry trends. The event takes place at five different locations at various times of the year: Delhi, Mumbai, Tokyo, London and Las Vegas.
Selected by a panel of prominent industry executives and experts, the Attivo Deception Platform beat out hundreds of nominations from across the industry due to our innovative deception solution and efficient approach to reducing attack dwell time and improving incident response.
Attivo Networks provides the industry's most comprehensive deception and response platform, which is designed to detect in-network threats, provide attack forensics and dramatically improve incident response. The efficiency of the technology is why hundreds of companies in financial, healthcare, technology, energy and other industries are turning to Attivo deception technology for early alerts to network intrusions and breach prevention.
Attivo continues to be recognized for its innovation in addressing advanced threat detection and announced this May an expansion of the Attivo ThreatMatrix Deception Platform, which provides real-time threat detection and accelerated incident response, to now support the Internet of Thing (IoT) ecosystem. This new enhancement complements the existing Deception Platform that supports user networks, data centers, cloud and ICS-SCADA environments. Gartner forecasts that 6.4 billion connected things will be in use worldwide in 2016, up 30 percent from 2015, bringing a whole new set of cyber security risk and the need for real-time attack detection. This platform expansion follows the announcement made at OpenStack where Attivo communicated its expanded support for OpenStack environments, enabling organizations to deliver deceptions and automatic blocking and quarantine for threats found within OpenStack networks.
We appreciate the continued industry recognition for our work in cyber security threat detection, analysis and incident response. We continue to strive toward providing the best solutions that can and will keep up with the latest in cyber security threats. Be sure to stay tuned for more announcements from us regarding new partnerships and our presence at the upcoming Black Hat USA 2016, July 30 – August 4 at Mandalay Bay, Las Vegas. We will be located in booth 1365.
Free Active Directory Assessment
Get Visibility Into Privilege And Service Account Exposure
For a limited time, Attivo Networks is providing free Active Directory Security Assessments to demonstrate how ADAssessor provides unprecedented and continuous visibility to AD vulnerabilities.
Try Our Endpoint Detection Net (EDN) for Free
Free use offer of our Award-winning security solution to prevent attackers from lateral movement, credential theft, and privilege escalation, fast and easy.
ADSecure 90-Day Free Trial
GET PROTECTION AGAINST UNAUTHORIZED ACCESS TO ACTIVE DIRECTORY
Hide and deny access to AD objects
Get alerted on unauthorized queries
Attack details easily viewable in dashboard
Your data remains on-premise
Ready to find out what's lurking in your network?