Defenders Must Pay Attention to the Conti Ransomware Operations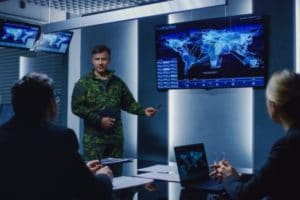 Written by: Vikram Navali, Senior Technical Product Manager - Cyberattacks are playing a critical role in the Russia-Ukraine conflict. With the recent incidents of HermeticWiper malware and a series of distributed denial-of-service (DDoS) attacks, it appears groups from both Russia and Ukraine are targeting their security systems. A Ukrainian cyber security researcher recently leaked sensitive data of the Conti ransomware gang. Soon after, the group behind the Conti ransomware gang posted a warning on a website.

The gang has publicly announced its full support for the Russian government, though the leak may not stop the Conti gang's intended operations. Still, it is worth understanding Conti's playbook to prepare an active defense strategy.
About Conti
Conti is a Ransomware-as-a-Service (RaaS) malware, first observed in December 2019 and distributed via TrickBot. Last September, CISA and the FBI released an alert that threat actors used Conti in more than 400 attacks on U.S. and international organizations. Like the ransomware Ryuk, threat actors use Conti ransomware to steal sensitive data and threaten to publish if the victims do not meet their demands. Conti can traverse the network, laterally moving until it gains domain and admin credentials for admin privileges. Conti can use techniques and command-line arguments to encrypt the local hard drive or network shares.
Conti's Tactics and Techniques
Conti actors launched spearphishing and exploited the vulnerability on public-facing web servers during the initial access stage to gain entry. It is also evident that the Conti ransomware gang has leveraged the Log4j vulnerability to move laterally on the victim's network.
Once they gained initial access, the Conti gang used tools and command-line programs to escalate privileges and move laterally across a victim's network. The following table shows tools they used by the MITRE ATT&CK phases. It also summarizes Attivo Networks products and features that help defenders detect and disrupt Conti gangs intended operations.

For example, in the discovery phase, threat actors may use ADFind, a free command-line query tool for gathering information from Active Directory (AD).

Similarly, threat actors may use SeatBelt to collect system data like Operating System versions and user folders.

How Do Attivo Networks Solutions Detect and Disrupt Conti Ransomware Operations?
Conti ransomware uses MITRE ATT&CK techniques and sub-techniques that are summarized below. We will see how Attivo Networks solutions help defenders disrupt Conti ransomware gang operations.
Conclusion
Conti ransomware operations can spill over to other country infrastructures during the cyberwar between Russia and Ukraine. Organizations must pay greater attention to their cybersecurity to prevent themselves from becoming collateral victims.
For more information, please visit https://www.attivonetworks.com/solutions/ransomware-mitigation/. Also, sign up for free trial offers on Active Directory security assessments and continuous visibility to AD vulnerabilities.
References
Free Active Directory Assessment
Get Visibility Into Privilege And Service Account Exposure
For a limited time, Attivo Networks is providing free Active Directory Security Assessments to demonstrate how ADAssessor provides unprecedented and continuous visibility to AD vulnerabilities.
Try Our Endpoint Detection Net (EDN) for Free
Free use offer of our Award-winning security solution to prevent attackers from lateral movement, credential theft, and privilege escalation, fast and easy.
ADSecure 90-Day Free Trial
GET PROTECTION AGAINST UNAUTHORIZED ACCESS TO ACTIVE DIRECTORY
Hide and deny access to AD objects
Get alerted on unauthorized queries
Attack details easily viewable in dashboard
Your data remains on-premise
Ready to find out what's lurking in your network?