Recognizing Our Fearless Women of the Channel!
Reading Time:

< 1

| Published: May 13, 2022 in Blogs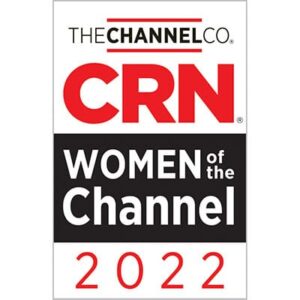 At SentinelOne, our team has worked tirelessly to support our partners trying to navigate our new hybrid reality. We've helped keep our partners and their customers safe and secure with flexible purchasing options. And we offered innovative marketing initiatives and engagement experiences to help our partners build their business. The result: our partners' businesses grew, which wouldn't be possible without our stellar partner team!
Today, we have another victory to share. Earlier this month, we became the first XDR provider to natively include identity security for endpoints, identity infrastructure (Active Directory), and deception with our acquisition of Attivo Networks. And with our acquisition, our partner team grew, and we couldn't be more excited.
On the heels of our team growth, CRN announced its Women of the Channel List for 2022, and we're honored that three of our new team members have been recognized. Carolyn Crandall, Chief Security Advocate and CMO at Attivo Networks, Briana Gulley, Director, North America Channel at Attivo Networks, and Helena Belem Kuly, Director, Partner Marketing at Attivo Networks were all honored based on their leadership and vision. Carolyn Crandall was also named to the 2022 Power 100 list for the 12th consecutive year.
The Women of the Channel List recognizes the unique strengths, vision and achievements of female leaders in the IT channel, and the Power 100 list honors the women whose leadership and vision are key drivers of their companies' success. With these annual lists, CRN celebrates the women of the channel for their constant dedication to channel excellence.
Congratulations, Carolyn, Briana, and Helena, and welcome to the SentinelOne team!
To learn more about the SentinelOne Partner Program and how together, we can deliver the protection people and organizations need to keep the world safe and running, please visit: https://partners.sentinelone.com/
Free Active Directory Assessment
Get Visibility Into Privilege And Service Account Exposure
For a limited time, Attivo Networks is providing free Active Directory Security Assessments to demonstrate how ADAssessor provides unprecedented and continuous visibility to AD vulnerabilities.
Try Our Endpoint Detection Net (EDN) for Free
Free use offer of our Award-winning security solution to prevent attackers from lateral movement, credential theft, and privilege escalation, fast and easy.
ADSecure 90-Day Free Trial
GET PROTECTION AGAINST UNAUTHORIZED ACCESS TO ACTIVE DIRECTORY
Hide and deny access to AD objects
Get alerted on unauthorized queries
Attack details easily viewable in dashboard
Your data remains on-premise
Ready to find out what's lurking in your network?