Sarah Ashburn of Attivo Networks Named to 2022 Channel Chiefs by CRN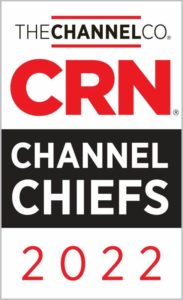 FREMONT, Calif. — Feb. 8, 2022 — Attivo Networks®, the experts in identity security and lateral movement attack prevention, today announced that Sarah Ashburn, the company's SVP of sales and customer success, was named to the high-profile list of 2022 Channel Chiefs. The designation, awarded by CRN, a brand of The Channel Company, recognizes a select group of influential channel vendor executives who consistently promote and execute effective channel partner programs.
In 2021, Ashburn oversaw Attivo Networks' explosive channel growth in North America, which included increasing the number of partners by 110%, the pipeline generated through partners by 200% and the overall partner conversion rate by 181%. A major contributor to this growth was the launch of the Attivo Identity Detection and Response (IDR) solution. With identity being the new security battlefield, the Attivo IDR solution provides detection and response for credential-based and privilege escalation attacks and visibility to identity exposures and cloud overprovisioning for reducing the attack surface.
"Our global partner program is growing exponentially, and we are thrilled Sarah's work with the channel is being recognized," said Tushar Kothari, CEO of Attivo Networks. "Through her vision and leadership, a majority of our new business is now going through a channel partner. This significant shift in our sales operation underscores our commitment and innovation in the channel."
The CRN editorial staff evaluated Channel Chief candidates on several factors such as their dedication and accomplishments as channel advocates, as well as their industry prestige and leadership. Successful candidates have shaped the IT channel with innovative strategies and programs and have promoted partnerships.
"CRN's 2022 Channel Chiefs recognition is given exclusively to the foremost channel executives who consistently design, promote, and execute effective partner programs and strategies," said Blaine Raddon, CEO of The Channel Company. "We're thrilled to recognize the tireless work and unwavering commitment these honorees put into fostering outstanding business innovation and building strong partner programs to drive channel engagement and success."
CRN's 2022 Channel Chiefs list will be featured in the February 2022 issue of CRN Magazine and online at www.CRN.com/ChannelChiefs.
About Attivo Networks
Attivo Networks®, the experts in identity security and lateral movement attack prevention, delivers a superior defense for countering threat activity. Through cyber visibility programs, deception, and conditional access tactics, the Attivo ThreatDefend® Platform offers a customer-proven, scalable solution for denying, detecting, and derailing attackers and reducing attack surfaces without relying on signatures. The portfolio provides patented innovative defenses at critical points of attack, including at endpoints, in Active Directory, in the cloud, and across the entire network by preventing and misdirecting attack activity. Forensics, automated attack analysis, and third-party integrations streamline incident response. Deception as a defense strategy continues to grow and is an integral part of NIST Special Publications and MITRE® Shield, and its capabilities tightly align to the MITRE ATT&CK® Framework. Attivo has won over 180 awards for its technology innovation and leadership. https://www.attivonetworks.com/
About The Channel Company
The Channel Company enables breakthrough IT channel performance with our dominant media, engaging events, expert consulting and education, and innovative marketing services and platforms. As the channel catalyst, we connect and empower technology suppliers, solution providers, and end users. Backed by more than 30 years of unequaled channel experience, we draw from our deep knowledge to envision innovative new solutions for ever-evolving challenges in the technology marketplace. www.thechannelcompany.com
Follow The Channel Company: Twitter, LinkedIn, and Facebook.
© 2022. CRN is a registered trademark of The Channel Company, LLC. All rights reserved.
Free Active Directory Assessment
Get Visibility Into Privilege And Service Account Exposure
For a limited time, Attivo Networks is providing free Active Directory Security Assessments to demonstrate how ADAssessor provides unprecedented and continuous visibility to AD vulnerabilities.
Try Our Endpoint Detection Net (EDN) for Free
Free use offer of our Award-winning security solution to prevent attackers from lateral movement, credential theft, and privilege escalation, fast and easy.
ADSecure 90-Day Free Trial
GET PROTECTION AGAINST UNAUTHORIZED ACCESS TO ACTIVE DIRECTORY
Hide and deny access to AD objects
Get alerted on unauthorized queries
Attack details easily viewable in dashboard
Your data remains on-premise
Ready to find out what's lurking in your network?