Attivo Networks Events and Webinars
14th CISO Platform 100 & Annual Summit | Virtual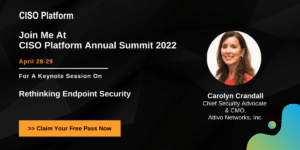 Security Industry Experts and Influencers across the globe come together to share knowledge on global trends, community challenges, key innovation, success, career advice, security for kids and more with 40+ keynotes, 20+ trainings, and the top 100 CISO Awards.
Join Attivo Networks' Chief Security Advocate and CMO Carolyn Crandall on Day 2 for a keynote session on Rethinking Endpoint Security.
There are no upcoming events at this time.