Attivo Networks Events and Webinars
GISEC 2022: Visit Us – Hall #8, Booth #C-9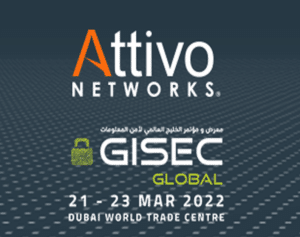 Gulf Information Security Expo and Conference (GISEC), the region's largest and most impactful cybersecurity event. Supported by the UAE's Cybersecurity Council, Dubai Electronic Security Center, Telecommunications & Digital Government Regulatory Authority and Dubai Police – GISEC welcomes more government decision-makers and solution buyers than any other tech security event in the region.
We are excited to announce that we will be present at GISEC Global, Dubai World Trade Centre, from March 21st to 23rd, 2022, Hall #8, Booth #C-9.
Join Attivo Networks for the presentations and discussions below:
Main Stage Presentation
Date: Day 1, March 21 – 14:30-14:45
Title: Guarding the New Identity-based Perimeter That Tops the CISO's Priority List
Speaker: Ray Kafity
With the rise of ransomware 1.0 and 2.0 attacks – which doubled in occurrences from 2019 to 2021, comprising 10% of all breaches – it is obvious why identity security should sit at the top of the CISO's priority list. In this session, Ray Kafity, shares how to provide an innovative defense for protection against identity compromise, privilege escalation, and lateral movement attacks. What can CISO's use to deliver unprecedented visibility, prevention, and derailment for security exposures, attack paths, and attack escalation activities across endpoints, active directory, and cloud environments.
Panel Discussion – Main Stage
Date: Day 1, March 21 15.35-16:05
Title: CISO Panel Discussion: Staying Ahead of the Hacker
Speaker: Ray Kafity
Dark Stage Presentation
Date: Day 2, March 22, 2022 12:40 – 13:00
Title: Discover Critical Active Directory Exposures & Targeted Attack
Speaker: Bahi Hour
Attackers target exposures within the Active Directory to quickly extract sensitive data on the entire domain, such as user accounts, system accounts, or trusted domain information. Active Directory security can be extremely difficult because many of these exposures aren't readily apparent unless the organization does an exhaustive audit. By identifying critical AD exposures and alerting on attacks that target them, organizations can improve their security before attackers can compromise their AD data.
Visit us – Hall #8, Booth #C-9
There are no upcoming events at this time.