Attivo Networks to Participate in First-Ever 'Identity Management Day' April 13, 2021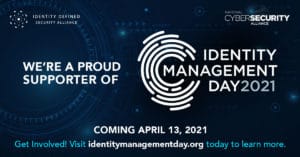 Identity Management Day, founded by the Identity Defined Security Alliance, aims to educate and engage business leaders and IT decision-makers on the intersection of identity management and security
FREMONT, Calif. – April 8, 2021 – Attivo Networks®, the industry experts in preventing identity privilege escalation and detecting lateral movement attacks, today announced that it would participate in the first-ever 'Identity Management Day,' an annual awareness event that will take place on the second Tuesday in April each year. The inaugural Identity Management Day will be on April 13, 2021.
The Identity Defined Security Alliance (IDSA) founded Identity Management Day to educate business leaders and IT decision-makers on the importance of identity management. Key components including governance, identity-centric security best practices, processes, and technology, with a special focus on the dangers of improperly securing identities and access credentials.
In addition, the National Cyber Security Alliance (NCSA) will provide consumers with guidance on protecting their online identities through security awareness, best practices, and readily available technologies.
Attivo Networks provides innovative technology for enterprise identity protection that provides unprecedented visibility to vulnerabilities that create attack paths and threats attempting to misuse credentials, escalate privileges and move laterally. In support of Identity Management Day, Attivo Networks will be holding an educational webinar in collaboration with Cyber Defense Media on defenses for protecting Active Directory, a prime target for attackers seeking to exploit identities and access controls within it. The webinar will also cover a 3rd party independent review of the company's new ADAssessor technology, the visibility it provides to vulnerabilities that attackers can leverage, and the best ways to use it for live attack detection.
"Raising awareness around identity management is especially critical after a barrage of identity-based breaches made headlines in the past year. In fact, research by the ISDA reveals that 79% of organizations have experienced an identity-related security breach in the last two years, and 99% believe their identity-related breaches were preventable," said Julie Smith, Executive Director of the IDSA.
"Attivo Networks is delighted to participate in the inaugural Identity Management Day and to take the opportunity to share how to prevent identity-related breaches, said Carolyn Crandall, CMO of Attivo Networks. With the shift to remote working and cloud adoption, identities have become the de facto perimeter and the way of the future for protecting businesses from cybersecurity threats. It is great to see awareness given to this topic and for the chance to further educate organizations on new approaches that protect identities in the form of the credentials and privileges that they exist within."
To learn more about and get involved in Identity Management Day 2021, please visit www.identitymanagementday.org and check out #IDMgmtDay on Twitter and LinkedIn.
To register for the upcoming webinar on protecting identities in Active Directory, click here.
About Attivo Networks
Attivo Networks®, the leader in preventing identity privilege escalation and detecting lateral movement attacks, delivers a superior defense for countering threat activity. Through cyber visibility programs, deception, and conditional access tactics, the Attivo ThreatDefend® Platform offers a customer-proven, scalable solution for denying, detecting, and derailing attackers and reducing attack surfaces without relying on signatures. The portfolio provides patented innovative defenses at critical points of attack, including at endpoints, in Active Directory, in the cloud, and across the entire network by preventing and misdirecting attack activity. Forensics, automated attack analysis, and third-party integrations streamline incident response. Deception as a defense strategy continues to grow and is an integral part of NIST Special Publications and MITRE® Shield, and its capabilities tightly align to the MITRE ATT&CK® Framework. Attivo has won over 150 awards for its technology innovation and leadership. attivonetworks.sentinelone.com
About the Identity Defined Security Alliance
The IDSA is a group of identity and security vendors, solution providers, and practitioners who act as independent sources of thought leadership, expertise, and practical guidance on identity-centric approaches to security for technology professionals. The IDSA is a nonprofit that facilitates community collaboration to help organizations reduce risk by providing education, best practices, and resources.
Follow the IDSA
Join the Community: https://forum.idsalliance.org/
Twitter: www.twitter.com/idsalliance
LinkedIn: www.linkedin.com/company/identity-defined-security-alliance/
Free Active Directory Assessment
Get Visibility Into Privilege And Service Account Exposure
For a limited time, Attivo Networks is providing free Active Directory Security Assessments to demonstrate how ADAssessor provides unprecedented and continuous visibility to AD vulnerabilities.
Try Our Endpoint Detection Net (EDN) for Free
Free use offer of our Award-winning security solution to prevent attackers from lateral movement, credential theft, and privilege escalation, fast and easy.
ADSecure 90-Day Free Trial
GET PROTECTION AGAINST UNAUTHORIZED ACCESS TO ACTIVE DIRECTORY
Hide and deny access to AD objects
Get alerted on unauthorized queries
Attack details easily viewable in dashboard
Your data remains on-premise
Ready to find out what's lurking in your network?