IDEntitleX
Provides cloud identity and entitlements visibility as part of the Attivo Identity Security Offerings, reducing the attack surface and limiting exposures across the enterprise.
Entitlement Visibility for Cloud
Active Directory user accounts are the principal identity and the primary security focus in a traditional enterprise network. As organizations expand to the cloud, they must provision identities and entitlements for users and "non-human" identities such as applications, virtual machines, containers, serverless functions, and other objects. These identities and entitlements increase the attack surface, and therefore the risks, to the organization. The Attivo Networks IDEntitleX solution efficiently addresses these challenges.
WHY CUSTOMERS CHOOSE IDENTITLEX
ENTITLEMENT POLICY VISUALIZATION
ENTITLEMENT CHANGE MONITORING AND ANALYSIS
SECURITY POSTURE ANALYSIS
IDENTITY, ROLE/ PERMISSION, AND RESOURCE DISCOVERY
CROSS-CLOUD ENTITLEMENT CORRELATION
"I JUST THINK THIS IS REALLY COMPREHENSIVE. I'M WILDLY IMPRESSED, AND I LIKE HOW YOU IDENTIFIED THE POTENTIAL WAYS THE EXPLOIT COULD HAPPEN."
— RESEARCH DIRECTOR AT GLOBAL MARKET RESEARCH COMPANY
Awards For Attivo Networks Solutions
IDEntitleX for Cloud Attack Surface Reduction
Gain actionable awareness of cloud identity and entitlement exposures
Identify and reduce risk using the intuitive and interactive graphical visualizations for cloud identities, roles/permissions, and resource. Gain the visibility needed to reduce attack pathways within the cloud environment.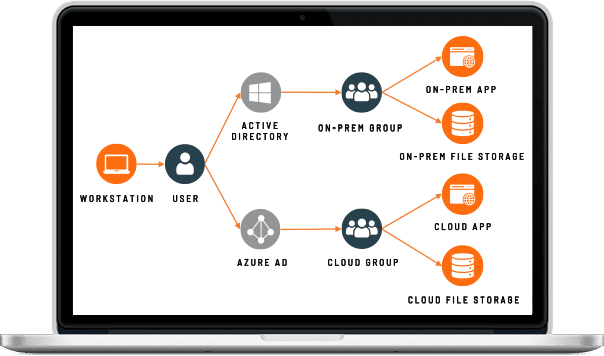 GLOBAL AND PLATFORM-SPECIFIC CLOUD VISIBILITY
OBJECT-SPECIFIC RISK ASSESSMENTS
ENTITLEMENT VISUALIZATIONS
CUSTOMIZABLE RISK ASSESSMENTS
ENTITLEMENT CHANGE TRACKING
Securing Identities with the IDEntitleX Solution
The IDEntitleX solution plays a critical role in giving visibility and reducing the attack surface for identities and entitlements in the cloud.
Understand exposures with identity and entitlement summaries across platforms.
Monitor entitlements to key cloud services, such as AWS S3 and Azure Key Vault.
View endpoint, Active Directory, and cloud exposures from a consolidated management console.
Isolate objects by risk and analyze the details of their entitlements.
Graph the end-to-end relationships between objects to understand the extent of access and how it was granted.
Customize the risk assigned to an entitlement to optimize.
Generate events when entitlement changes impact critical objects.
Gain a unified view of identities and exposures across the organization
Visibility to identities and entitlements across multi-cloud environments
Visibility to users, groups, and applications by risk
Attack path and identity exposure visibility across the enterprise
Detection for identity privilege escalation across cloud environments
Easy deployment and management
Ready to find out what's lurking in your network?